Mobility Driving Assessment
Gill's Driving School provide on-road driving assessment to ascertain one's ability to drive safely in live traffic situations.
The overall process is coordinated via a complex process involving behaviour, strategic and tactical abilities. Personality and adaptive strategies are important in maintaining the normal parameters of driving safely in the face of illness and disability.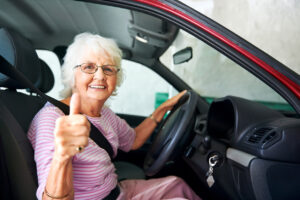 The reporting sequence depends, among other elements, on:
Vision
Visuspatial perception
Hearing
Attention and concentration
Memory
Insight
Judgement
Adaptive strategies
Reaction time
Planning and organisation
Ability to self monitor
Sensation
Muscle power
Co-ordination
Our trainers have completed the Mobility Assessments Course with the Royal College of Physicians of Ireland and have received certification in Road Safety, Mobility and Health.
Group 1
Driving Assessments (Cars)
Some drivers may require on-road assessment for a multitude of reasons particularly the presence or change of any medical condition or functionality impairment which may impact on driving ability.
This change may follow as a result of any of the following and driving assessment is required for patients with a wide range of medical conditions such as:




Dementia
Psychiatric Disorders
Stroke
Brain Injury
Sensory Loss (visual, auditory)
Learning Difficulties
Congenital Disorders
Neurological Disorders
Cardiovascular Disorders
Diabetes Mellitus
Renal Disorders
Respiratory & Sleep Disorders



Group 2
Driving Assessments HGV
(Heavy Goods Vehicle)
Group 2 Categories C, CE, C1, C1E, D, DE, D1 or D1E i.e. truck and bus (with or without trailer)
The vehicles in Group 2 are regarded as higher risk vehicles which require a higher standard of physical and mental fitness on the part of the driver.
Drivers in this category on renewing their licence are already required to submit an eyesight & medical report to the NDLS.
The on-road assessment for Group 2 are conducted under the 2015 Medical Fitness to Drive (Sláinte agus Tiomáint) Road Safety Authority guidelines.
Medical Fitness to Drive Guidelines
While many factors contribute to road safety, a driver's health is an important consideration.
Medical standards for driver licensing are used internationally to ensure that the driver's health status does not increase their risk of crashing.
About the Guidelines
Sláinte agus Tiomáint Medical Fitness to Drive Guidelines (Group 1 and 2 Drivers) contains medical standards to guide the health assessments of drivers for licensing purposes in Ireland.
The most recent guidelines were published in April 2017.
They were developed by the National Office for Traffic Medicine on behalf of the Road Safety Authority.
The standards apply to the following drivers:
Group 1 Categories A, A1, B, EB, M or W, ie motorcycles, cars and tractors (without trailer)
Group 2 Categories C, CE, C1, C1E, D, DE, D1 or D1E i.e. truck and bus (with or without trailer)
Gill's Driving School team of very caring and professional assessors will give a high quality, professional and confidential Driving Assessment. The driver is our utmost priority and we will treat you with dignity and respect with safety being paramount.
If you need a Medical Fitness to Drive Assessment call us on 096 73030, we are here to assist you.